Posts for tag: dental implant

Dental implants are a reliable way to replace teeth. More than 95% of implants survive ten years after their installation, and many of these could conceivably continue for decades.
But that still leaves a tiny few that don't reach the ten-year mark. Some fail early because the implant didn't integrate fully with the bone to create a durable hold. But others fail later—usually for one of two major causes.
Some failures occur due to over-stressing of the implant from abnormally high biting forces, usually because of teeth grinding. People who have this involuntary habit generate excessive force as they grind their teeth, which can damage implants (as well as natural teeth). To reduce this force, a patient's dentist can fit them with a biteguard they wear in the mouth to prevent teeth from making solid contact with each other during a grinding episode.
Fortunately, teeth grinding isn't that prevalent among adults—but that can't be said about the other major cause for implant failure: periodontal (gum) disease. This is a bacterial infection caused by dental plaque, a thin, bacterial film that accumulates on teeth. The implant itself isn't affected by the infection, but the gums and underlying bone supporting the implant can be.
Implants are most in peril from a form of gum disease called Peri-implantitis, which spreads deeper into the gum tissues around implants faster than infections around natural teeth. That's because implants lack the gum attachment of real teeth, which supply a collagen barrier that slows the spread of infection. Peri-implantitis can quickly infect the supporting bone and eventually weaken its connection with the implant.
Because of its aggressiveness and speed, we must diagnose and treat peri-implantitis as soon as possible to limit any damage to the support structures around an implant. If you notice any swollen, reddened or bleeding gums, you should call your dentist as soon as possible for an examination.
And in light of this potential danger to your implants, you should also strive to prevent gum disease through daily oral hygiene. Brushing and flossing your teeth, including around your implants, removes harmful plaque buildup. This daily habit and regular dental cleanings will help you avoid a costly gum infection and ensure your implants are there for years to come.
If you would like more information on dental implants, please contact us or schedule an appointment for a consultation. You can also learn more about this topic by reading the Dear Doctor magazine article "Dental Implants: A Tooth-Replacement Method That Rarely Fails."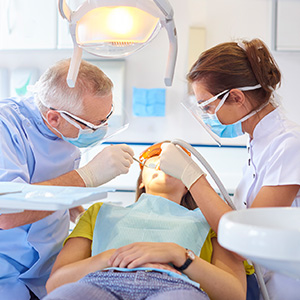 After years battling disease, your troubled tooth reached its useful life's end. It's been extracted, and we've replaced it with a life-like dental implant. So now, as far as the implant goes, disease is no longer an issue…right?
Sorry, no—though not to the same degree as a natural tooth, an implant could be endangered by gum disease. Although the implant's materials can't be infected, the supporting gums and bone can.
In fact, there's a particular type of gum disease associated with implants known as peri-implantitis ("peri" around an implant; "itis" inflammation) that first affects the gums surrounding an implant. Although peri-implantitis can arise from an excess of dental cement used to affix the crown to the implant, it most commonly starts like other forms of gum disease with dental plaque.
Dental plaque, and its hardened form calculus (tartar), is a thin, bacterial biofilm that builds up on teeth surfaces. It can quickly accumulate if you don't remove it every day with proper brushing and flossing. The bacteria living in plaque can infect the outer gum tissues and trigger inflammation.
Gum disease around natural teeth can spread quickly, but even more so with implants. That's because the natural attachment of the gums helps supply antibodies that impede infection. Implants, relying solely on their connection with the bone, don't have those gum attachments. As a result, peri-implantitis can move rapidly into the supporting bone, weakening the implant to the point of failure.
The good news, though, is that peri-implantitis can be treated successfully through aggressive plaque removal and antibiotics. But the key to success is to catch it early before it progresses too far—which is why you should see your dentist at the first sign of gum swelling, redness or bleeding.
You can also prevent peri-implantitis by practicing daily brushing and flossing, including around your dental implant. You should also see your dentist twice a year (or more, if they advise) for cleanings and checkups.
Dental implants overall have a greater than 95% success rate, better than any other tooth restoration system. But they still need daily care and regular cleanings to ensure your implants are on the positive side of those statistics.
If you would like more information on caring for your dental implants, please contact us or schedule an appointment for a consultation.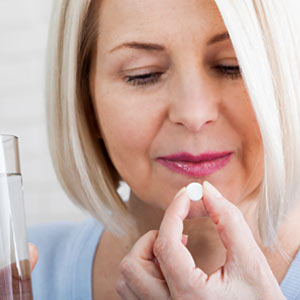 Dental implants are far and away the most "tooth-like" restoration available today for missing teeth. Not only do they look real, they also mimic dental anatomy in replacing the tooth root.
To install an implant, though, requires a minor surgical procedure. And, as with any surgery, that includes a slight risk for a post-surgical infection. For most patients this isn't a major concern—but it can be for people with certain medical conditions.
One way to lessen the risk for implant patients whose health could be jeopardized by an infection is to prescribe a prophylactic (preventive) antibiotic before implant surgery. The American Dental Association (ADA) recommends the measure for patients with artificial heart valves, a history of infective endocarditis, a heart transplant and other heart-related issues.
In the past, their recommendation also extended to people with joint replacements. But in conjunction with the American Academy of Orthopedic Surgery (AAOS), the ADA downgraded this recommendation a few years ago and left it to the physician's discretion. Indeed, some orthopedic surgeons do recommend antibiotic therapy for patients before surgical procedures like implantation for up to two years after joint replacement.
These changes reflect the ongoing debate over the proper use of antibiotics. In essence, this particular argument is over risks vs. benefits: Are pre-surgical antibiotics worth the lower infection risk for patients at low to moderate risk in return for increased risk of allergic reactions and other side effects from the antibiotic? Another driver in this debate is the deep concern over the effect current antibiotic practices are having on the increasing problem of antibiotic-resistant bacteria.
As a result, dentists and physicians alike are reevaluating practices like prophylactic antibiotics before procedures, becoming more selective on who receives it and even the dosage levels. Some studies have shown, for example, that a low 2-gram dose of amoxicillin an hour before the procedure can be effective with much lower risks for side effects.
If you're considering dental implants and you have a medical condition you think could be impacted by the procedure, discuss the matter with your dentist and physician. It may be that pre-surgical antibiotics would be a prudent choice for you.
If you would like more information on getting dental implants, please contact us or schedule an appointment for a consultation. You can also learn more about this topic by reading the Dear Doctor magazine article "Implants & Antibiotics."